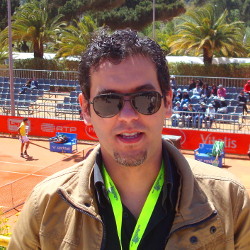 This is the personal blog of Marco Gonçalves. All thoughts and opinions are exclusively personal, and may (or not) be endorsed by my companies, co-workers and friends.
I'm a Lisbon Estoril based web guy. As 90% 50% of my time is spent around computers and the internets. Messing around mainly with PHP, MySQL, Javascript, HTML, CSS, Flash, Open Source OS and servers. I have other interests but nowadays time is running scarce.
I Love
Web standards, Usability, Open minded people and companies, Waynext, Bringfun, Hacking for fun, Open Source, Vintage and convertible cars, Traveling, Eating, Sleeping, Red wine and Cheese, Sport Lisboa e Benfica, Tuica, Randomness, Freedom, Recursion, Recursion, Stuff that works out of the box, Simple things, People with courage, Innovation, Rocketry and space, Music, Movies, Chess, Laugh, Run, Swim, Surf, the Ocean Water, Sand, Trekking, Nature, Cats, Dogs, Winding roads and many more stuff.
I Hate
Delivery Dates, Non Compliant Browsers, Closed minded people and companies, Proprietary code, connectors, development tools, etc (yes…I'm sorry but this also includes you Apple), Talking in Public, Broken things, Over engineered stuff, Useless meetings, Lame projects oversold by some guys in suits, Ignorance, Stupidity in general, Tattoos/piercings freaks and parlors, lack of Character, Clueless account/project managers, Oppression and dictatorships, Pollution, Queuing, and some more stuff.
This stuff is written in English because i have thousands of readers spread around the world 🙂 or maybe not, and is just a way of exercising my written English.